EASY Teriyaki Sauce Recipe – I Heart Naptime
This teriyaki sauce is a super simple sauce with an explosion of sweet and salty flavor. Coming together in just 10 minutes, this delicious sauce is a finger-licking finish to all of your favorite dishes!
The versatile nature of this incredible sauce is on display when it's used as glaze or drizzle for everything from chicken meatballs, to slow cooker teriyaki chicken and baked chicken wings!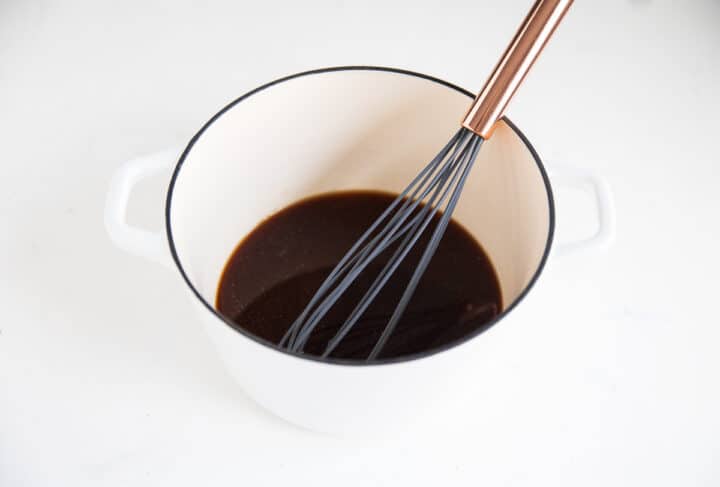 This Asian inspired teriyaki sauce recipe is such an easy go-to sauce for so many reasons. The combination of sweet and sour, tart and tangy is all thanks to the pairings of garlic and ginger, honey and brown sugar, and of course the saltiness from the soy sauce. It really is a special combination of flavors that seem to just go with everything!
This homemade sauce works as a glaze for all different kinds of dishes from veggies to meats to tofu and tempeh, all without the additives and high sodium content of anything store-bought.
Having such an easy teriyaki sauce recipe on hand is always convenient when you're serving a crowd. It's budget-friendly, super simple, and makes a wonderful dipping sauce for all kinds of appetizers. It's crowd-pleasing tastes will have everyone licking their spoons and their fingers!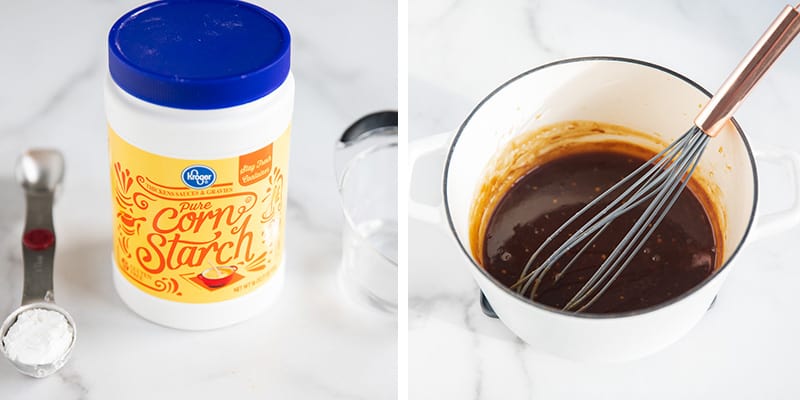 Ingredients
Water: Used to thin out the sauce, which can get quite thick thanks to the honey and cornstarch. It's also used along with the cornstarch as a thickening agent.
Soy sauce: Aim for low sodium, as part of making homemade sauces is to use fresh ingredients but also avoid the extra high sodium content and other additives. But of course, use what you have!
Brown sugar: Packed light brown sugar. Will sweeten the sauce and give the saltiness and tang a nice contrast.
Honey: It will add a little signature stickiness to the sauce.
Garlic & ginger: A special duo that creates a tasty combination and provides a flavor base for the entire recipe.
Cornstarch: Added to thicken the consistency.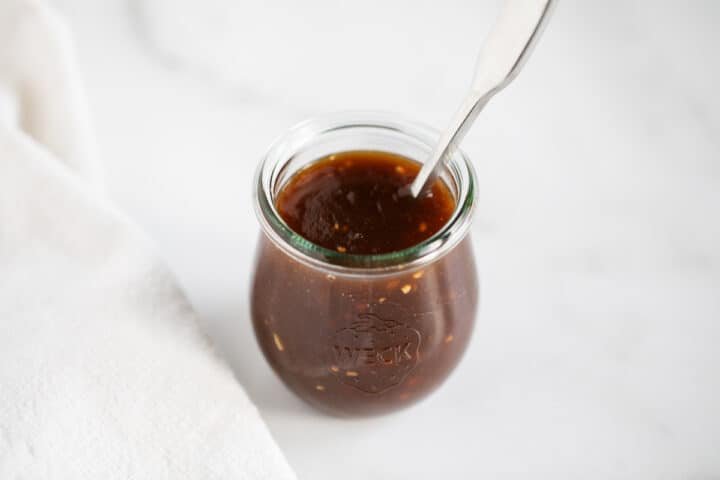 How to make teriyaki sauce
Combine. Heat all of the ingredients (with the exception of the cornstarch) and just a portion of the water in a small saucepan on the stovetop.
Whisk. In a separate small bowl, whisk remaining water with the cornstarch until blended and whisk it into the pan while stirring.
Simmer. Bring to a light simmer until the sauce begins to thicken. Then, remove it from the heat.
Serve. Best served warm with all of your favorite meats, rice, and veggies. Depending on its consistency, you can use it as a glaze, a sauce, or a dressing!
Tip: If you find the sauce too thick, add a little water to thin it out. If you'd like it thicker, add some more cornstarch.
Storage tips
Once cooled, you can store it in a jar or covered container for up to 1 week in the fridge. Because of its versatility, you can definitely use it multiple nights of the week!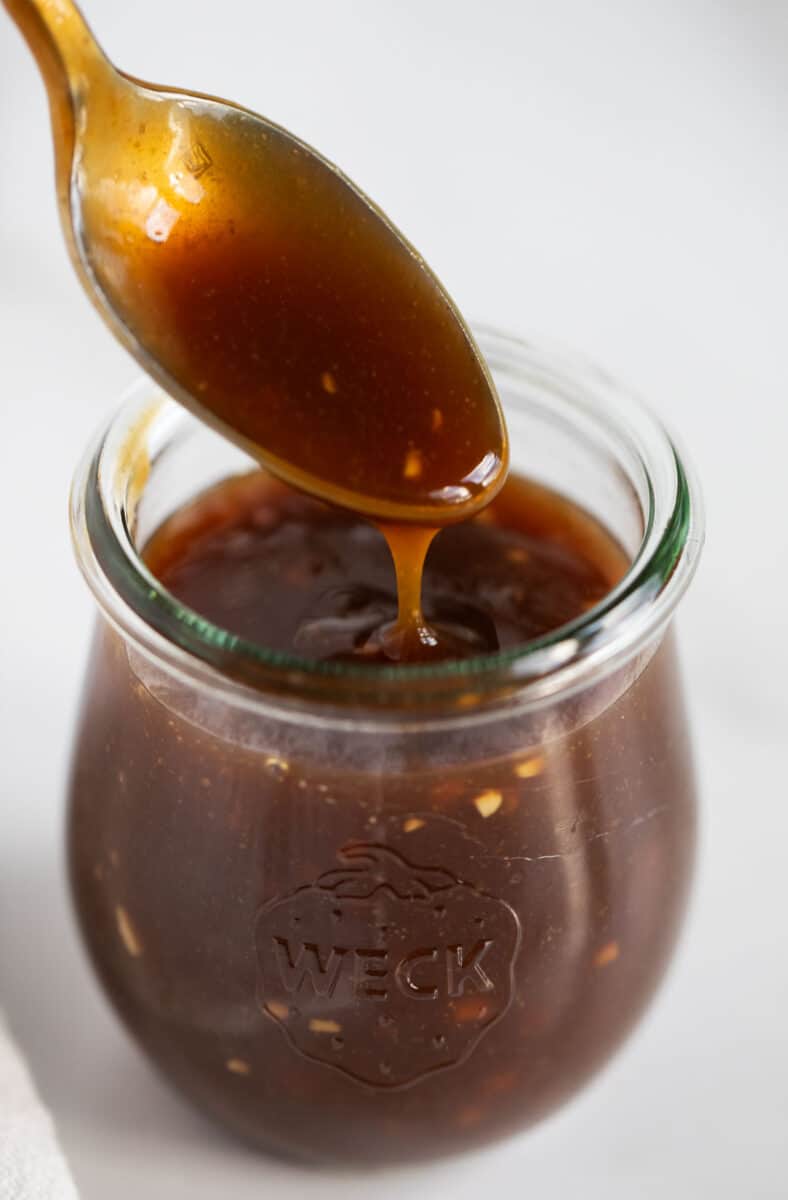 Favorite ways to use it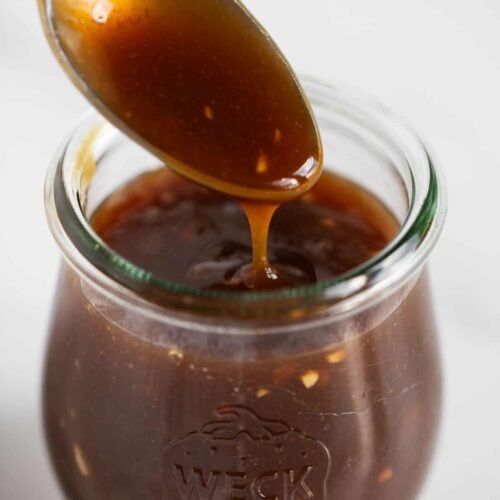 Teriyaki Sauce
This teriyaki sauce is a super simple sauce with an explosion of sweet and salty flavor. Coming together in just 10 minutes, this delicious sauce is a finger-licking finish to all of your favorite dishes!
1

cup

water

(divided)

1/4

cup

low sodium soy sauce

3-4

Tablespoons

packed light brown sugar

1

Tablespoon

honey

2

cloves garlic

, minced

1/2

teaspoon

ground ginger

1

Tablespoon

cornstarch
Combine 3/4 cup water, soy sauce, brown sugar, honey, garlic and ginger in a small sauce pan over medium heat.

In a small bowl, whisk the remaining 1/4 cup water and cornstarch. Whisk into the pan and then bring to a light simmer. Simmer until it begins to thicken and then remove from heat. If the sauce becomes too thick, add a Tablespoon of water to thin out. If you'd like it thicker, whisk in another teaspoon of cornstarch.

Serve warm with your favorite meats, rice and vegetables or store for later. Place leftovers in a covered container and refrigerate for up to one week.
Calories: 35kcal | Carbohydrates: 9g | Protein: 1g | Fat: 1g | Saturated Fat: 1g | Sodium: 269mg | Potassium: 20mg | Fiber: 1g | Sugar: 7g | Vitamin C: 1mg | Calcium: 6mg | Iron: 1mg
PIN THIS RECIPE
Jamielyn Nye is the creative director and founder of I Heart Naptime. She is also the author of the I Heart Naptime Cookbook. When she's not creating in the kitchen, Jamielyn loves to chase her four little monkeys and snuggle up on the couch with her man.
subscribe
Never worry about dinner again!
LEARN MORE ABOUT THIS GREAT SOURCE